When looking to redecorate a living room, the rustic chic decorating style provides a number of different options, and it can be centered on a few different interests. Whether one wishes for a soft woodsy feel or the openness feel of the sea, rustic chic living rooms are generally centered on a common themed centerpiece, and this centerpiece is generally some sort of hardwood or driftwood designed piece. A lot of times, the main focal point of these sets have the appearance of driftwood or hardwood. While it gives the room a rustic look, it can be extremely elegant at the same time.
Rustic interiors derive much of their inspiration from the simplicity and romance of past times, with a pointed desire to recall some of the charm and uniqueness that dominated interior spaces before technology took over. One-of-a-kind findings and repurposed objects find their place in the rustic living area, with natural materials such as raw, stripped, or blemished wood, stone, and metal taking center stage in the way of furnishings.
Many designers and home owners will attest to the challenge of creating an interior space the alludes to the innovation of bygone eras without overwhelming the area or hindering the comfort and practicality of the inhabitants.
The color schemes for these rustic chic living room ideas are generally either white or gray, and it is accented usually with soft greens and browns to tie in the rustic look of the wood centerpieces. These ideas can appeal to most women, but they are also designed to provide a comfortable feel for the men of the house, as well. As an example, we have collected 27 different designs that prove that one can be both rustic and elegant at the same time.
1. Light up the World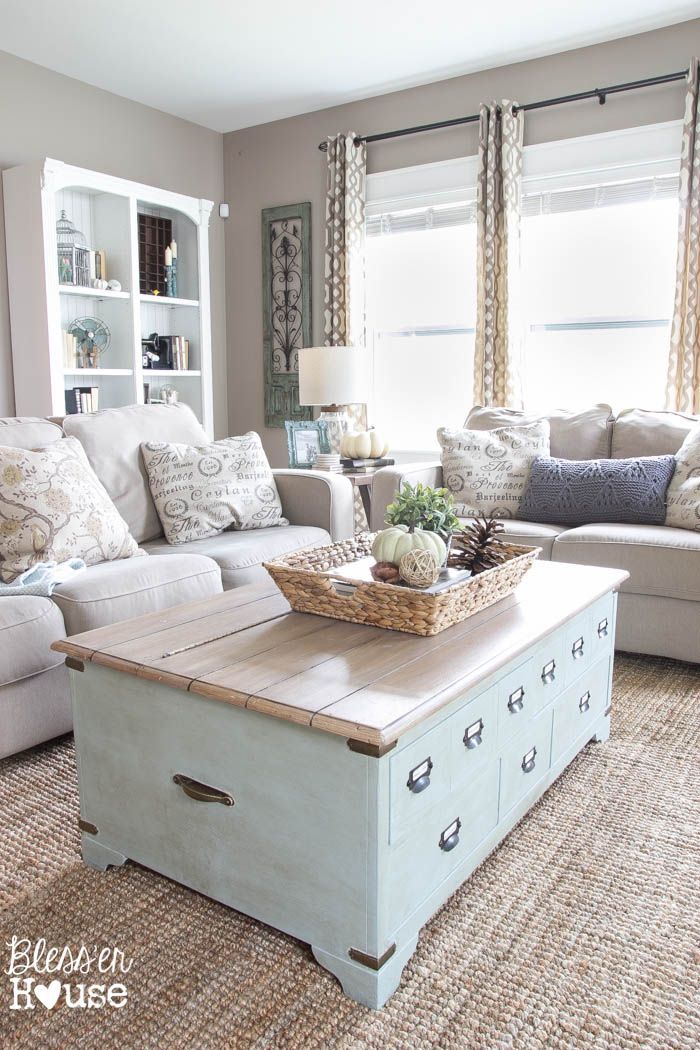 Source: blesserhouse.com
Simplicity and New England sensibilities are the key living room ideas on display here, with a clean but cozy beachfront feel. A repurposed wooden "filing cabinet" chest steals the show as both a unique and functional coffee table, while mix-and-match patterned throw pillows and an organic centerpiece collection keep the atmosphere on the easy side of elegance. Tip: if you're unsure where to begin when designing your rustic living room, start with an all-white or neutral canvas (walls, shelves, flooring) and incorporate your fabrics, prints, and furnishings over time. You may be surprised at where your findings and inspirations take you!
2. Fluffy Elegant Chandelier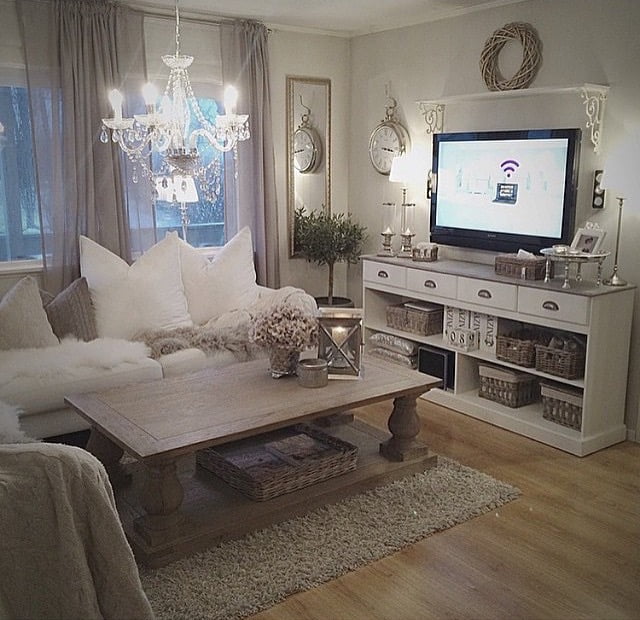 Source: interiordesignpro.org
If Marie Antoinette moved to modern New York City this would most likely be her living room decorating style of choice. Undoubtedly feminine but unabashedly opulent, this rustic hybrid space is illuminated by a Versailles-worthy chandelier, with plush carpeting and faux fur throws epitomizing all the comforts the elite could crave. Stylish scroll work shelving and a solid wooden coffee table uphold the rustic end of the aesthetic while a silver pocket watch clock and garden accents add a refreshingly personal touch. Best of all the creamy white and smooth taupe tones open up and brighten the space, offering smaller interiors a chance to shine in their own right.